Traditional Bento(option plan)
2021年8月30日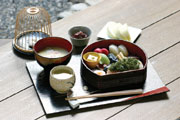 【The traditional Japanese bento】
A traditional bento was served as dessert after a tea party that lasted about 100 years.
Seasonal vegetables are mainly lightly pickled and seasoned to be gentle on the body and fit the taste of Japanese people.
Please enjoy your lunch in a room of culture properties. If you wish to, we can show you the culture of  Japanese food.
Plan
Traditional Japanese Bento
Time
60 minutes
Price
3000 yen (excluding tax)
Meal can be upgraded upon request
5000 yen (excluding tax)~
※If you want Plan A, you can choose this lunch box, hand-rolled sushi, or whatever you like. 
※ From December 28th to January 5th (31st and 1st will be closed), theAt the tea party, we restored the traditional bento as well as possible. Japanese New Year's fee (all fees will be increased by 30%).
Detail

 【Restoration of the tea party dessert of "Nishijin traditional bento"】

At the tea party, for the experience we restored the Nishijin traditional bento as well as possible. Please enjoy the atmosphere of those days at the Tondaya Machiya.